What is Opal?
Gem quality opal is one of the most spectacular gemstones. A single stone can flash every color of the spectrum with an intensity and quality of color that can surpass the "fire" of diamond. The best opals can command prices per carat that rival the most expensive diamonds, rubies and emeralds. They are very popular gems.
Play of Color and Opalescence
Opal is a hydrous silicon dioxide (SiO2.nH2O) that is found throughout the world. Most of this opal is "common opal" or "potch" which has a milky or pearly luster known as "opalescence". However, rare specimens of opal produce brilliant color flashes when turned in the light. These color flashes are known as a "play of color". Opal specimens that exhibit a play of color are known as "precious opal." If the play of color is of high quality the material can be used to produce valuable gemstones.
A play of color in opal can be observed when the stone is moved, when the light source is moved or when the angle of observation is changed. The video at right illustrates "play of color" in an Ethiopian Welo opal.
Areas within an opal that produce a play of color are made up of microscopic spheres of silica arranged in an orderly network. As the light passes through the array spheres it is diffracted into the colors of the spectrum. The size of the spheres and their geometric packing determine the color and quality of diffracted light.
Wonderful Names Used to Describe Opal
There are many types of opal and a wide variety of names are used to describe them. If you have spent a short amount of time looking at opal you have probably been surprised by the large number of wonderful names that are used to describe it. Names such as fire opal, black opal, jelly opal, boulder opal, matrix opal, Coober Pedy, Mintabie, Andamooka, precious opal, opal doublet, and opal triplet can ignite your imagination. Our goal on this webpage is to help you understand these names, where they come from and how they are used. We would also like to share some pictures of our favorite gemstone. Enjoy!
"Precious opal" flashes iridescent colors when it is viewed from different angles, when the stone is moved or when the light source is moved. This phenomenon is known as a "play of color". Precious opal can flash a number of colors such as bright yellow, orange, green, blue, red or purple. Play of color is what makes opal a popular gem. The desirability of precious opal is based upon color intensity, diversity, uniformity, pattern and ability to be seen from any angle.
Precious opal is very rare and found in a limited number of locations worldwide. Most precious opal has been mined in Australia, secondary sources include: Mexico, Brazil, and the United States. Canada, Honduras, Indonesia, Zambia, Guatemala, Poland, Peru, New Zealand and Ethiopia. The black opal on the left was mined at Lighning Ridge, Australia and the white opal on the right was mined at Coober Pedy, Australia..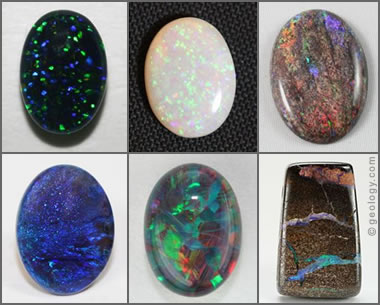 "Common opal" does not exhibit a "play of color". It is given the name "common" because it is found in many locations throughout the world. Most specimens of common opal are also "common" in appearance and do not attract commercial attention.
However, some specimens of common opal are attractive, colorful and lustrous. They can be cut into gemstones that accept a high polish. They can be beautiful but simply lack a play of color that would earn them the name "precious". Common opal is frequently cut as a gemstone and can command reasonable prices. Shown at right is a honey-colored opal from Mexico and teardrop-shaped stone cut from Peruvian blue opal.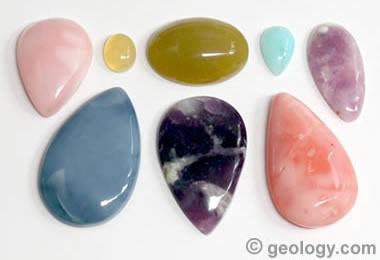 "Fire Opal" is a term used for colorful, transparent to translucent opal that does not exhibit a "play of colors". Instead, it has a bright, firey color that is present throughout the stone. Fire opal is usually orange to red in color, however, many people apply the name "fire opal" to stones that are a bright yellow color.
Fire opal is cut in a variety of ways. Transparent fire opals are usually faceted and translucent stones are usually cut into cabochons. The specimen on the left is a faceted fire opal cut from material mined in Oregon. It is 9 millimeters by 7 millimeters and weighs 1.2 carats. The yellow stone on the right is a faceted fire opal cut from material mined in Nevada. It is a 9 millimeter round that weights 1.7 carats.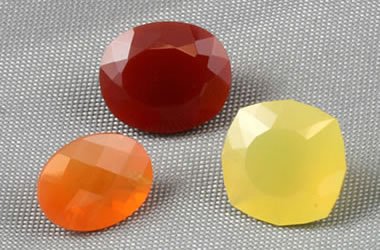 ادامه مطلب
+
نوشته شده در چهارشنبه 16 شهریور1390ساعت 16:13&nbsp توسط كسری سيفی |